Advances in Wisconsin Heart Health: Creating a Healthier Future
February 3, 2023 Posted by AHW Endowment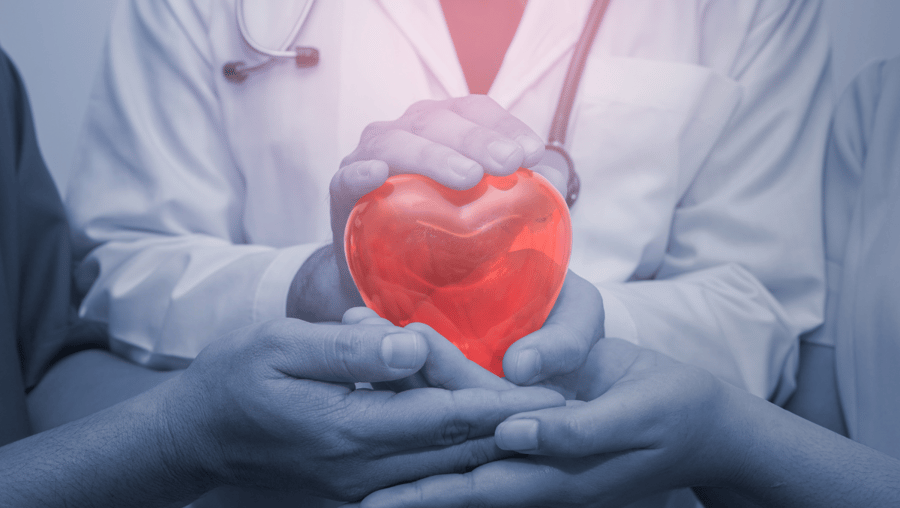 You or someone you know has likely been affected by heart disease, the leading cause of death in Wisconsin and across the U.S. In honor of American Heart Month, we're sharing highlights of the important work being done with AHW funding to promote better Wisconsin heart health and to create better health outcomes for communities here and beyond.
Taking On Wisconsin's Heart Health Challenge
Heart disease is a critical health issue in our state, where heart attacks or strokes cause one in three deaths. Various factors, such as obesity, hypertension, and binge drinking, can increase the risk of heart disease. Many Wisconsin residents experience high rates of these factors. For example, according to the Wisconsin Department of Health Services:
67% of Wisconsinites are obese or overweight
36% have high cholesterol
32% have high blood pressure
To improve Wisconsin heart health and build healthier communities, AHW has funded a variety of research, education, workforce development, and community health initiatives focused on cardiovascular health. Through these projects, we support the development and identification of solutions across genetic and biological factors, health behaviors, and socioeconomic conditions that lead to poor heart health outcomes.
Here are several of the innovative AHW-funded projects in which Medical College of Wisconsin (MCW) researchers and community partners are making significant strides toward better heart health in our state.
How AHW Funding is Supporting Better Wisconsin Heart Health
Developing a Highly Skilled Cardiac Care Workforce
A key strategy to improve heart health outcomes in Wisconsin and provide the best care across all of our communities is to build a highly skilled workforce to provide cardiac care and develop new knowledge to allow for better treatment.
Through a project funded by AHW, an MCW team is creating a cardiovascular research program focused on congenital heart disease, or structural problems that develop in the heart or surrounding blood vessels before birth.
Funding awarded for this project has made it possible to hire world-class scientists and talented biomedical research teams; obtain essential equipment; train faculty and provide education opportunities; and support four sub-awards. These critical steps pave the way for a program that will improve cardiac care and advance treatment in years to come.
Hear from Dr. Joy Lincoln, professor of pediatrics and director of cardiovascular research for the Herma Heart Institute Basic/Translational Science Research Program, about the impact of this project:
Addressing a Significant Heart Disease Risk Factor in Milwaukee
As mentioned above, 32% of Wisconsin residents have high blood pressure, or hypertension, a significant risk factor for heart disease and a challenge to Wisconsin heart health. Hypertension is a leading health disparity in the African-American population. In Wisconsin, a random survey of households in Milwaukee found that 74% of Black patients suffered from uncontrolled hypertension.
In a project funded by AHW, the Westside Healthcare Association aimed to create, implement, and evaluate a portable and cost-effective hypertension control strategy in a primary care setting serving low-income African Americans.
The two-year project produced programming that engaged patients with uncontrolled hypertension at an urban community health clinic and was replicated at a second clinic and at an additional federally qualified health center.
Preliminary project data showed that 41% of program participants met their blood pressure goals, and 78% showed a trend toward better blood pressure control. 100% of participants made positive diet and physical activity changes, and 51% experienced a decrease in weight.
By improving major risk factors of heart disease, like hypertension, Wisconsin residents can live healthier lives and experience better heart health outcomes.
Examining The Tie Between Cholesterol and Heart Disease-causing Plaque
People with high blood cholesterol levels are at greater risk of heart disease, as high cholesterol plays a role in artery plaque buildup. But why does high cholesterol cause plaque to accumulate in arteries? With 36% of Wisconsin adults experiencing high cholesterol, it's essential to Wisconsin heart health to explore that question.
There has been much research over the years on atherosclerotic plaques–the plaque that forms on artery walls–and it's been established that important immune cells called macrophages are a significant component of the plaque. While macrophages are major contributors to the atherosclerotic plaque that leads to cardiovascular diseases, it's yet not understood why macrophages accumulate cholesterol and form plaque, according to MCW principal investigator for the project, Yiliang Chen, PhD (Medicine).
With AHW funding, Dr. Chen and colleagues began a project this year that will define a molecular mechanism leading to atherosclerotic plaques: exploring how and why macrophages contribute to plaque, which ultimately can lead to heart disease. This information may inform the design of more efficient therapeutic strategies to combat cardiovascular disease.

Improving Cardiac Arrest Survival Rates in Milwaukee County
Only 10% of out-of-hospital heart attack patients survive in Milwaukee County. However, a person's chance of survival is higher if a bystander provides CPR. But for bystanders to be able to carry out lifesaving CPR, they must know how to do it. This is where 911 dispatchers' CPR instructions are crucial: Bystander CPR rates can double with their instruction.
With AHW funding, Milwaukee County Emergency Medical Services (EMS) established a dispatcher-assisted bystander CPR system to ensure that any 911 caller in Milwaukee County has access to step-by-step CPR instructions. This raised the countywide CPR rate from 19% to 52% and the countywide cardiac survival rate from 10% to 19%.
Working with community partners, Milwaukee County EMS created materials and protocols to train all Milwaukee County and Greenfield dispatchers to provide CPR instructions. They also developed a training program for dispatcher-assisted CPR and training for agency leaders, as well as the ability to provide future training.
The Future of Wisconsin Heart Health
With advancements such as those described here, and more research and innovative work on the horizon, the future of Wisconsin heart health is promising. We're excited to see what impactful changes to heart health care and treatment are made possible and look forward to the discoveries and progress that will be made in years to come.