AHW-Funded Master of Science in Genetic Counseling Program Sees First Graduating Class
June 8, 2023 Posted by AHW Endowment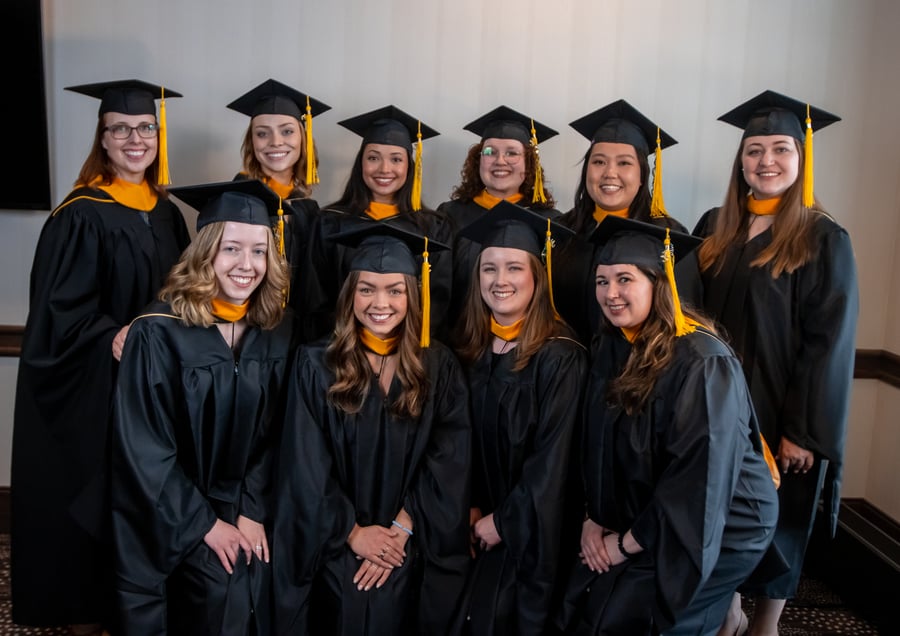 On Thursday, May 18, the Alumni Center auditorium at the Medical College of Wisconsin (MCW) was buzzing with excitement during the Master of Science in Genetic Counseling (MSGC) Program's Research Colloquium. The new program's first graduating class gathered with their faculty, peers, and families to present their research and celebrate completing their degrees.
Obtaining a master's degree is an important milestone for any healthcare professional. However, the celebrations of this graduating class represent much more: The event signified the successful launch and implementation of the MSGC Program. Funded by the Advancing a Healthier Wisconsin Endowment (AHW), program development began in 2020, giving students (who started matriculating in 2021) the education needed to further health and genetic education in Wisconsin and beyond.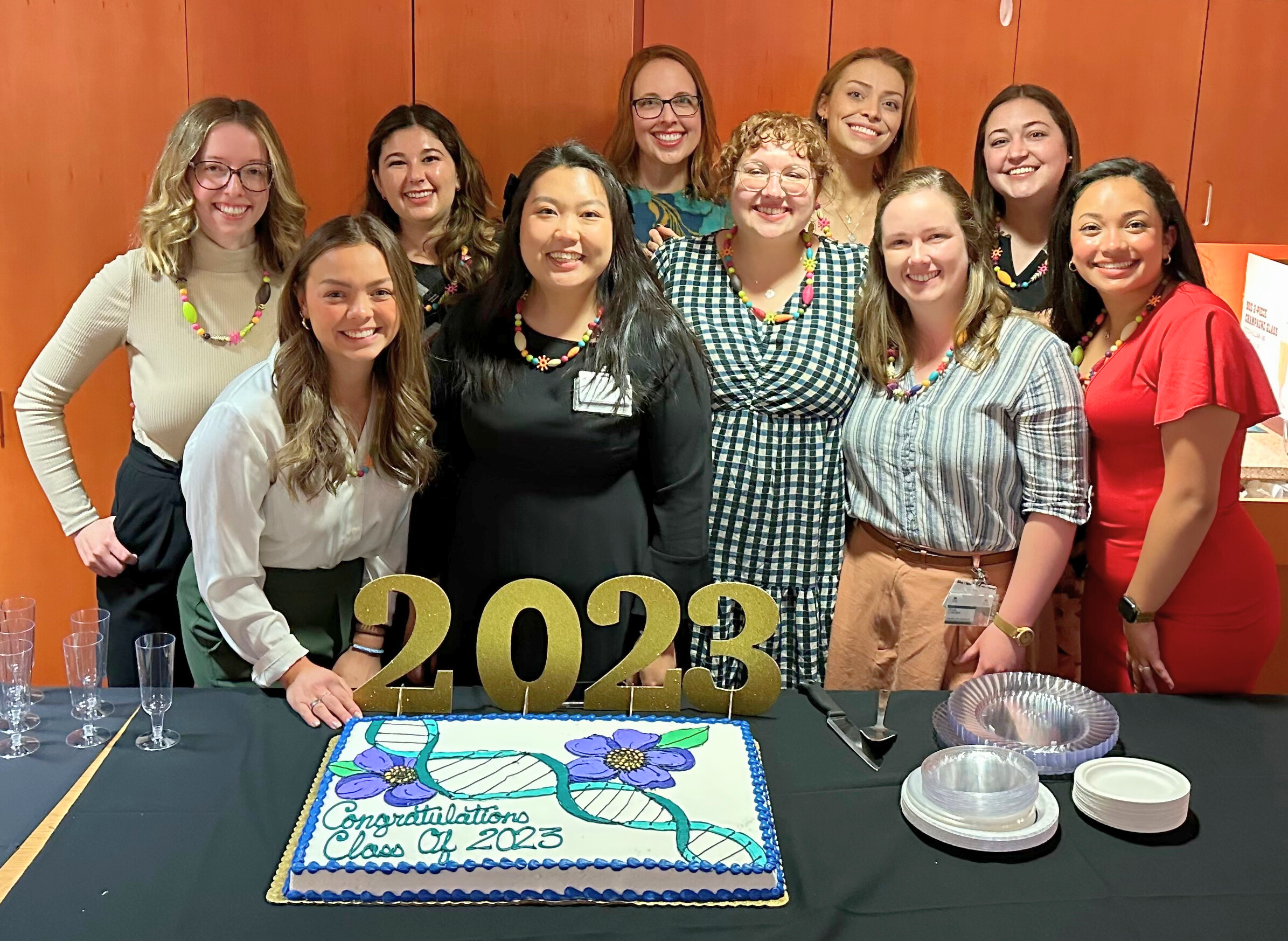 The inaugural graduating class of the Master of Science in Genetic Counseling Program celebrated their achievements at their Research Colloquium on May 18, 2023.


Addressing the Need for Genetic Counseling Professionals
In recent years, the demand for genetic counseling services has skyrocketed. Thanks to the increase in the availability and use of genetic tests, and the integration of genetics and genomics into mainstream medicine, genetic counselors are in demand more than ever.
The genetic counseling profession has grown by 100% since 2006 and offers a near-100% employment rate for recent graduates. Yet, there is a significant shortage of clinical genetic counselors, which is not expected to improve in the coming years. And while there are 54 master's level genetic counseling programs across the country, there are not enough to accept and educate all the interested and qualified applicants.
In efforts to address the national shortage of genetic counselors and prepare the next generation of genetic counselors in Wisconsin and across the U.S., MCW's Dr. John Meurer, professor and director of the Institute for Health and Equity, and Jennifer Geurts, MS, assistant professor and associate director of genetic counseling, sought funding from AHW to establish MCW's Master of Genetic Counseling Program in 2019. They were joined by Jennifer Foley, administrator for the Institute for Health & Equity, and Cynthia Mand, assistant dean of academic affairs administration.
According to Dr. Meurer, "The Medical College Wisconsin is a health science university with missions to advance the well-being and health of people in Wisconsin. We have strengths in genomic sciences and precision medicine. But in our clinical enterprise, we noticed a big gap in providing genetic counseling services. The reality is we didn't have enough professionals providing genetic counseling services… We were in a good place, being strong in education and having a resource like AHW startup funds to launch a program."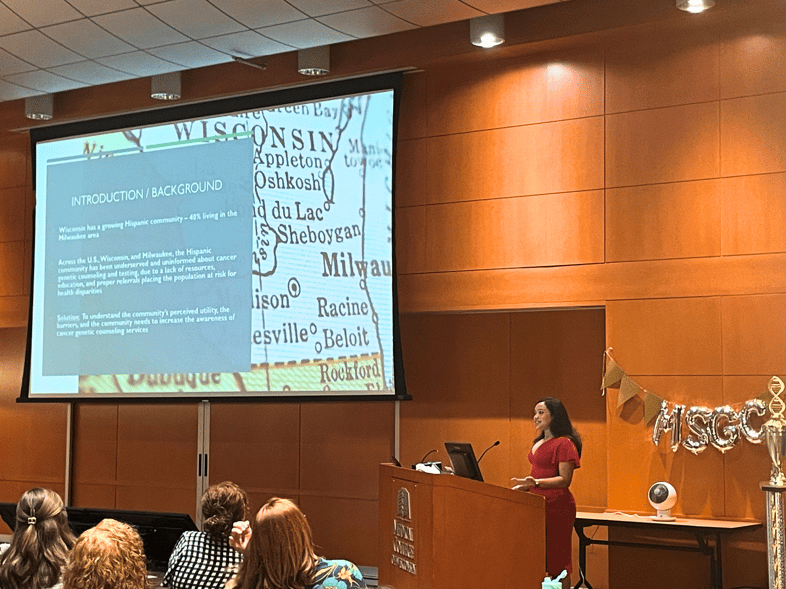 2023 MSGC graduate Siomara Santana discusses her thesis, "Assessing the Hispanic community's current understanding of cancer genetic counseling, perceptions of access, and ideas to increase community awareness."


Creating a New, Accredited Genetic Counseling Program
Developing an accredited master's program is no small feat, and creating the new MSGC Program at MCW was no exception. Preparation and planning for admissions, faculty and staff, on-campus facilities logistics, curriculum, and accreditation by the Accreditation Council for Genetic Counseling required many months of diligent, strategic, and thoughtful effort by the programs' founders.
Geurts said, "To get this off the ground, we took two years to think critically about how to create a program that would be very innovative and best serve our community here in Wisconsin."
Funding from AHW supported the program's development and implementation, including:
Recruiting and hiring key program personnel, including conducting a national search for a program director, recruiting an education program coordinator, and hiring an assistant program director
Creating a steering committee to develop program fundamentals and ensure appropriate evaluations and subcommittees including admissions, course curriculum, and academic progress committees
Developing a continuous process of program evaluation
Designing the curriculum, including creating clinical practicums and the didactic curriculum
Applying for accreditation and completing accreditation requirements
Reflecting on building the program from the ground up, Geurts said, "It's been an incredible effort from so many different departments and offices here at the Medical College and again, our hospital partners, everyone's been incredibly gracious… It always amazes me how with each project or new thing we're trying to do, the people are wonderful… helping students navigate all the challenges in being a professional student in a challenging and dynamic world."
Fostering a Diverse and Inclusive Environment
Another essential aspect of constructing the MSGC Program was ensuring student body diversity, supporting a diverse and inclusive environment, and increasing diversity in the genetic counseling profession.
Program diversity is essential for the MSGC Program, as there is a growing need for diverse genetic counselors representing the ethnicities and genders of the patients they serve. Program leaders hope the program will interest diverse and qualified applicants across Wisconsin, from our cities to rural areas and communities.
Geurts says, "We talk about visible and invisible diversity to better serve our communities. We want to get young people in Milwaukee and our rural communities excited about genetic counseling."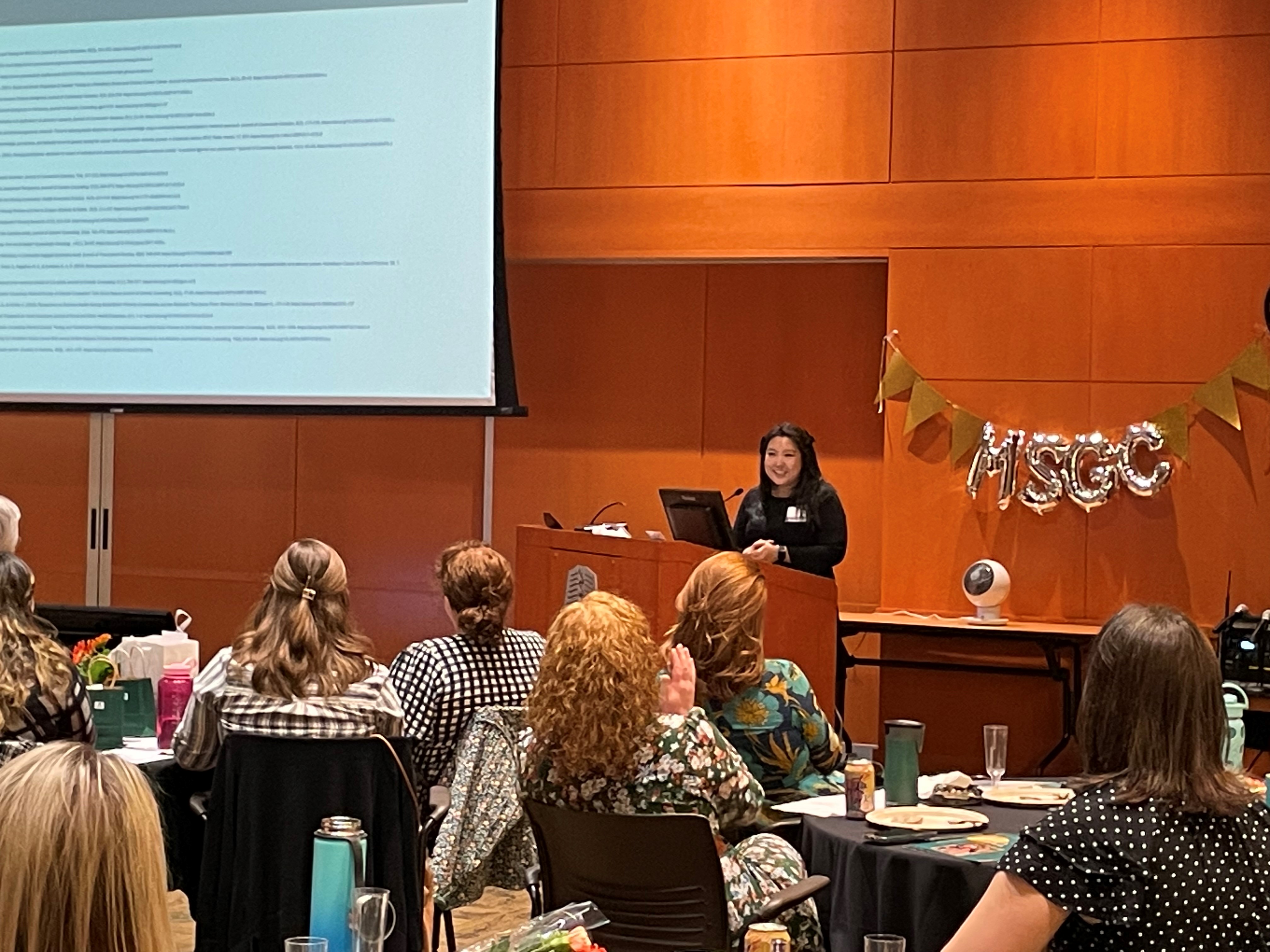 2023 MSGC graduate Erica Her discusses her thesis, "Exploring the Hmong Population's Awareness and Perception of Genetic Counseling and Testing."


What's Next for this Year's Graduates?
With the MSGC Program's first graduates moving on to begin their professional careers as genetic counselors, program directors are thrilled with the exceptional work and impactful contributions the graduates have made as students and will continue to make in their careers.
"… I've recently been thinking about how we are measuring the success of this program, and I'm proud to say that with this first graduating class, we've done it. And we will continue to do it. The work is not over, but we have met our mission. I'm blown away," said Geurts.
Several members of the 2023 graduating class represent underserved communities and populations and conducted population-specific research as part of their program work. They will soon be starting in roles that serve the communities they're from.
Others look forward to using their education and skills to support Midwest communities needing expanded genetic counseling services.
As Amy White, assistant professor of laboratory medicine and pathology and laboratory genetic counselor at Mayo Clinic, said in the keynote address she gave at the MSGC Research Colloquium, "You are aware of disparities in healthcare, including lack of access to or knowledge of genetic services, and you will be in positions to make an impact with your new ideas."

Amy White, assistant professor of laboratory medicine and pathology and laboratory genetic counselor at Mayo Clinic, gives the keynote address at the MSGC Research Colloquium,
This year's graduates will be providing their knowledge, experience, and talents to patients at the following facilities:
Essentia Health in Duluth, MN

Ascension Wisconsin in Milwaukee, WI

Mayo Clinic in Rochester, MN

MCW Cancer Center in Milwaukee, WI

MCW's Genetics and Genomics Program at Children's Wisconsin in Milwaukee, WI

Versiti's Diagnostic Laboratory and Comprehensive Center for Bleeding Disorders in Milwaukee, WI

Vincent Hospital in Green Bay, WI
As this year's graduating class moves on to their new ventures, we look forward to learning about the important contributions they, and future graduates, will make in the field of genetic counseling.
Learn more about this AHW-funded project here.