Bridging the Information Divide: Bringing COVID-19 Information to Wisconsin's Hmong Community
April 30, 2020 Posted by AHW Endowment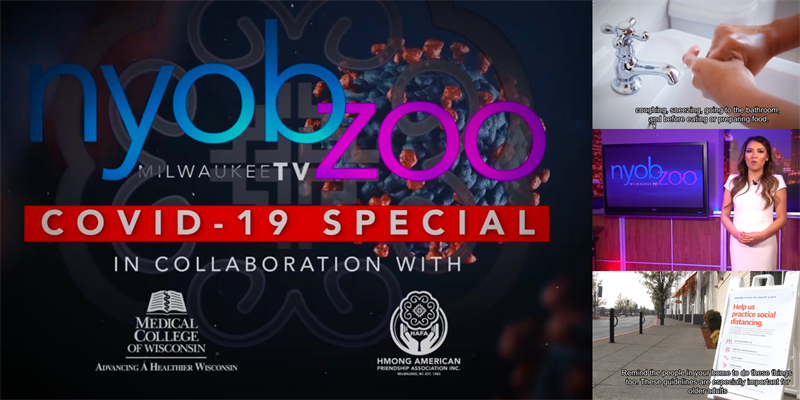 As COVID-19 has spread around the globe, new guidance, updated data, and the latest news stories have become a constant on TV, in our email inboxes, and across social media.

In any native language, trying to absorb it all is overwhelming. Now imagine trying to swim through the ocean of information in your second language, or one that you don't speak or read at all. It's nothing short of impossible.

Yet it's the exact challenge facing many of Wisconsin's Hmong residents today – and the focus of an AHW-funded response being led by the Hmong American Friendship Association (HAFA).
Wisconsin is home to the third largest Hmong population in the United States. Among the top 10 metro areas in the U.S. for Hmong residents, three are in Wisconsin: Milwaukee (13,000), Wausau (6,000), and Sheboygan (5,000). A significant number of Hmong people also call La Crosse, Appleton, and Green Bay home.
It is a population critical to reach, but chronically underserved. Reaching the Hmong population requires a tailored, culturally appropriate approach.
"In the Hmong culture, we didn't have a written language until the 1950s and it was not created by the Hmong people," explains Lo Neng Kiatoukaysy, executive director of HAFA. "So it is not widely used."
While younger members of the Hmong community may read Hmong, they are also almost always able to read and understand English as well, he explains, making translations of print materials less critical. Instead, storytelling and oral communication remain a primary means of sharing information, particularly among elders and foreign-born Hmong individuals.
It is this insight along with the deep networks to reach a critical population of Wisconsin residents that HAFA and its partners have turned into a collaborative project funded through a $33,290 AHW grant — one of 17 grants awarded through AHW's Urgent Response to COVID-19 funding opportunity.
The project has a simple – but essential – mission: To educate Wisconsin's Hmong communities about COVID-19 by creating culturally appropriate information and conveying it through trusted sources.
---
"This kind of information, it will save lives." – Lo Neng Kiatoukaysy
---

The trust begins with the network creating the information. The project's partners include HAFA, as well as the Hmong American Center (Wausau), Hmong American Partnership (Appleton/Fox Valley), Hmoob Cultural and Community Agency (La Crosse), and the Hmong 18 Clan Council of Wisconsin.
"We have been in the communities for a long time, and our communities look to us as a leader," says Kiatoukaysy. "They depend on us for good, true information that they can utilize to help them and their families."
To create information that resonates with Hmong audiences, a key project partner is WMLW-TV's monthly Nyob Zoo Milwaukee TV, a local program targeting the Hmong population of Wisconsin that airs every last Sunday of the month, to produce and share the videos.
"We are fortunate to have Nyob Zoo TV as a partner. They don't just take an English piece and translate over it," says Kiatoukaysy. "They make sure the content is culturally appropriate so that people relate to it and listen to it."
The first, a full-length program dedicated to COVID-19 information, highlighted critical CDC and Wisconsin Department of Health Services guidance, explained by trusted Hmong leaders.
The program aired April 26 and continues to be available on the Nyob Zoo Milwaukee TV Facebook page. Short, educational videos explaining handwashing, safer at home, and social distancing are also being shared.
"We haven't calculated all of the numbers yet, but so far we are very pleased with the reach," says Kiatoukaysy. At the time of this writing, in just three days, the full-length video has amassed more than 20,000 views on Facebook alone. As project partners share these videos and future information, the reach will only grow.
"This kind of information," says Kiatoukaysy, "it will save lives."
Project Details
Project Title:
Educating the Hmong Community About COVID-19
Award:
$33,290
Award Date:
April 2020
Primary Community Partner:
Hmong American Friendship Association, Inc.
Additional Community Partners:

Nyob Zoo Milwaukee TV,
Hmong American Center (Wausau),
Hmong American Partnership (Appleton/Fox Valley),
Hmoob Cultural and Community Agency (La Crosse),
Hmong 18 Clan Council of Wisconsin