Building COVID-19 Vaccine Confidence Through a Health Equity Lens
November 30, 2021 Posted by AHW Endowment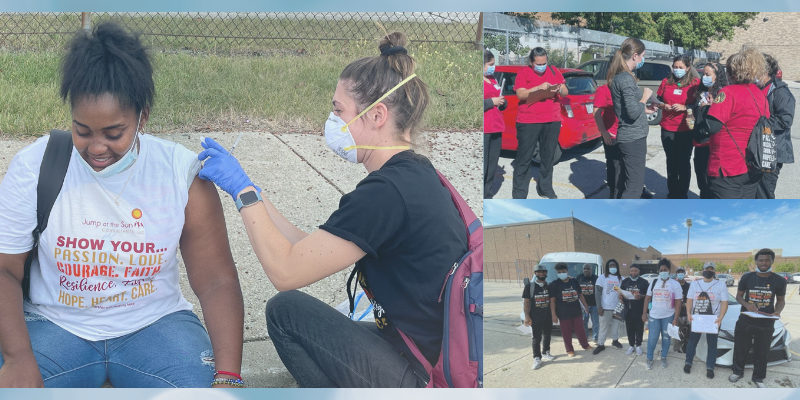 On December 14, 2020, the first doses of the COVID-19 vaccine were administered in Wisconsin. Almost one year later, more than 7.5 million doses have made it into the arms of Wisconsin residents, with approximately 59% of the population having received at least one dose.
Yet as COVID-19 vaccinations increased, a concerning statistic began to surface: Vaccination rates in Black and Hispanic/LatinX communities lagged rates in white communities by more than 25%. As community organizations and health officials mobilized a response, an active coalition stepped forward in Milwaukee County, Wisconsin's most populated and diverse county.
With the support of a $230,000 AHW grant, along with additional public and private funding, this collaborative team of community and Medical College of Wisconsin-based leaders have worked to increase access to COVID-19 vaccines in high-vulnerability Milwaukee County ZIP codes through an approach that is aimed at building trust today and long into the future.

Their approach began with data. Utilizing a model called the Evaluating Vulnerability and Equity (EVE) Model developed by Dr. Ben Weston, associate professor of Emergency Medicine at the Medical College of Wisconsin and the chief health policy advisor of Milwaukee County, they were able to identify and target communities with low vaccine uptake, coupled with high vulnerability.

The coalition then began a targeted approach, with community-based organizations Jump at the Sun Consultants, INPOWER Solutions, and 2-Story Creative partnering to deploy targeted messages and trusted community mobilizers into neighborhoods on a weekly basis.

A messaging campaign, called Authentic Voices, was enhanced to feature community members from the impacted Milwaukee neighborhoods telling their stories of resilience and why they chose to get vaccinated. Shared across a variety of media platforms, the messages resulted in a reach of more than 300 million impressions in just six months.

"The Authentic Voices campaign was unique in that it engaged community members throughout the entire process from inception to implementation, enabling us to truly personalize the messaging across each creative execution, "said Aziz Abdullah, co-founder of INPOWER Solutions and one of the leaders of the campaign. "Many individuals had varying sentiments, attitudes, and emotions around the COVID-19 vaccine, therefore it was essential for our workgroup to build consistency while remaining flexible to the uniqueness of each person and community."

In addition to this comprehensive communications strategy, a team of community members, most of whom were from the targeted census tracts, were trained to canvass neighborhoods, partnering with public health teams to go door-to-door, talk to residents about vaccines, answer their questions, and offer vaccines to those who were ready. This community-centered approach was aimed at building trust, creating goodwill between both community mobilizers and vaccinators and between mobilizers and community members.

"Meeting people where they are and providing information in a non-judgmental manner from trusted sources, has been essential to our journey. We continue to learn and grow and are grateful to the many and strong partnerships that has contributed to our early successes," said Lorraine Lathen, president of Jump at the Sun Consultants, and director of the COVID-19 Community Mobilizer Team.

The coalition's data-driven, human-centered model has delivered results: To-date 150 individuals were trained as community mobilizers, 65 census tracts were covered, 23,651 homes were visited, 746 vaccines administered, and over 31,000 text messages and 35,000 pieces of COVID-19 vaccine information have been disseminated to residents in low-vaccinated communities, helping to deliver accurate information and protect individuals , families, and the entire community as the COVID-19 pandemic continues.

While the data continue to be monitored and evaluated, the coalition is sharing the lessons it has learned for future public health planning and partnership development.

"AHW funding was essential to help build vaccine confidence in a culturally sensitive and authentic reflection of voices in socially vulnerable communities," added Mara Lord, senior vice president of university engagement and strategic planning at MCW and a collaborator on the project. "It also enabled us to ensure an equity lens was used for every aspect of this project, from selection of partners, to focus group testing, to deployment of messaging and Community Mobilizers."

Collaborations such as this one prove that using an equity lens throughout the entire process is a critical building block for the future.

"This model could be scaled to enhance equity and promote other positive health behaviors such as medication adherence, blood sugar management, and reducing smoking," said Dr. Weston. "Additionally, this model could serve as a bridge to overcome medical mistrust, building relationships at the neighborhood level with individuals from the community who serve as health advocates and liaisons to more complex health infrastructure."

Find more information about these funded projects in the AHW Funded Project Listing.