AHW Health Grants in Wisconsin Support Fight Against Excessive Alcohol Use
April 13, 2023 Posted by AHW Endowment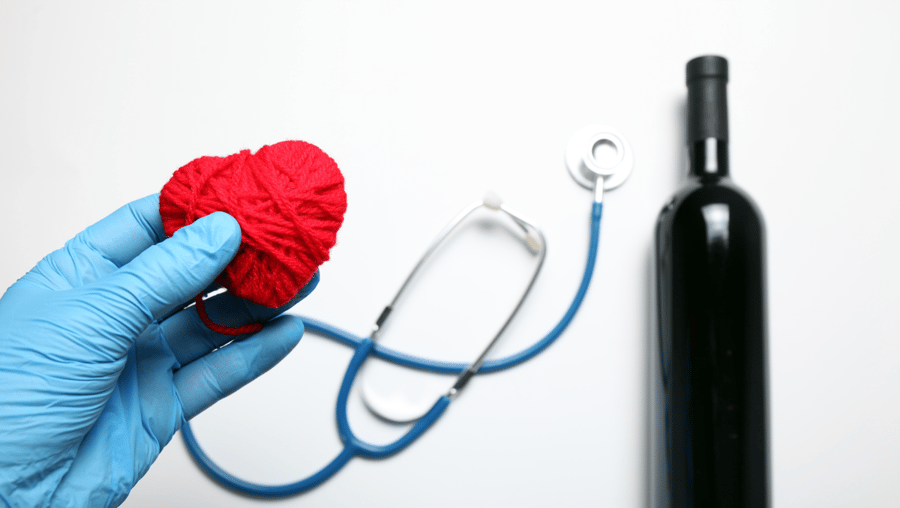 Alcoholic beverages are a staple at Wisconsin's gatherings, events, and celebrations. For many, regular alcohol consumption is part of life. Yet, alcohol is the nation's fourth leading preventable cause of death and plays a role in an estimated 88,000 deaths in the U.S. each year. In Wisconsin, more than 1,000 people die from alcohol-related causes annually.
April is Alcohol Awareness Month, an opportunity to reflect on the role alcohol plays in culture and raise awareness about health dangers related to excessive alcohol use. The Advancing a Healthier Wisconsin Endowment (AHW) has funded various research and community health grants in Wisconsin for projects that create a better understanding of alcohol misuse and to take steps to address it. While alcohol consumption might be common in Wisconsin, we support efforts to reduce the health risk it poses to our communities.
Excessive Alcohol Use: A Problem Across Wisconsin Communities
Wisconsin is known for its many breweries and the sheer amount of alcohol its residents consume. According to the Wisconsin Department of Health Services (WDHS), "When Wisconsin adults drink, they drink more often and have more alcohol than adults in other states."

More Wisconsin adults (64.8%) admit to alcohol use in the past 30 days than the average U.S. resident (55.1%), per WHDS. And the state's residents across all races and ethnicities binge drink at higher rates than the U.S. median. Take one glance at the graphic below, demonstrating the concentration of excessive drinking in the U.S. You'll quickly see that excessive drinking in Wisconsin is a problem.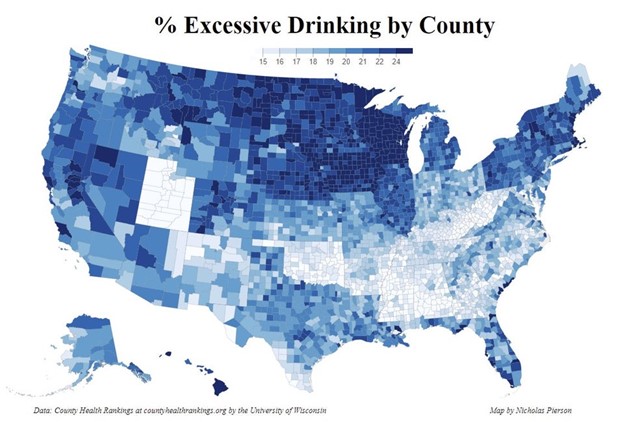 To address alcohol as a health issue in our state, AHW has funded health grants in Wisconsin to support research and the development of strategies to improve alcohol education and encourage healthier choices.
AHW Research and Community Health Grants in Wisconsin Addressing Alcohol Misuse
Planning for the Wisconsin Alcohol Policy Project
Creating positive changes to Wisconsin's alcohol consumption trends and improving our residents' health requires a complete understanding of alcohol use trends and what has been done to address them.
The Wisconsin Alcohol Policy Project (WisApp) was created to assess gaps in the data available to inform policy related to Wisconsin's alcohol consumption and what is necessary to improve that data in the future. AHW funded the five-month project in which researchers developed plans for the WisApp. The Medical College of Wisconsin's (MCW's) Terri deRoon-Cassini, PhD, MS (MCW Comprehensive Injury Center) was the planning project's principal investigator, and Michael Levas, MD (Pediatrics) was co-investigator.
One step in planning for the WisApp was establishing a partnership between it and the MCW Comprehensive Injury Center. This relationship allows researchers to explore the links between alcohol consumption data and policy information on injury and health outcomes. The results of this work will serve as a needs assessment guide to crucial alcohol policy work in our state.
Understanding the Intersection of Violence and Alcohol in Vulnerable Communities
Wisconsin's most vulnerable communities suffer from disproportionate levels of violence. And in communities and neighborhoods home to high concentrations of violent events, there are also high concentrations of businesses and establishments selling alcohol.
In a project funded by AHW, Advancing Alcohol and Violence Research: Developing New Partnerships and Sharing Learnings, researchers from Marquette University and MCW's Constance Kostelac, PhD (MCW Institute for Health and Equity) are investigating the intersection between community-level violence and firearm violence and alcohol. Milwaukee is the focus of their work, given its high levels of violent crime and high density of alcohol outlets (businesses that sell alcohol for consumption).
The year-long project will create new partnerships to improve research on the intersection of violence and alcohol in Wisconsin. Those learnings will be shared with system and community stakeholders to drive action that can improve health outcomes in our state.
Reducing Underage Access to Alcohol with Compliance Checks
In its 2022-2026 community health improvement plan (CHIP), Marathon County identified substance misuse as a community health priority, specifically underage drinking: The state's rate of underage drinking is above the national average. Early-life interventions in underage drinking habits can powerfully change health outcomes for young people, potentially reducing their risk for at least seven types of cancer and other alcohol-related health issues.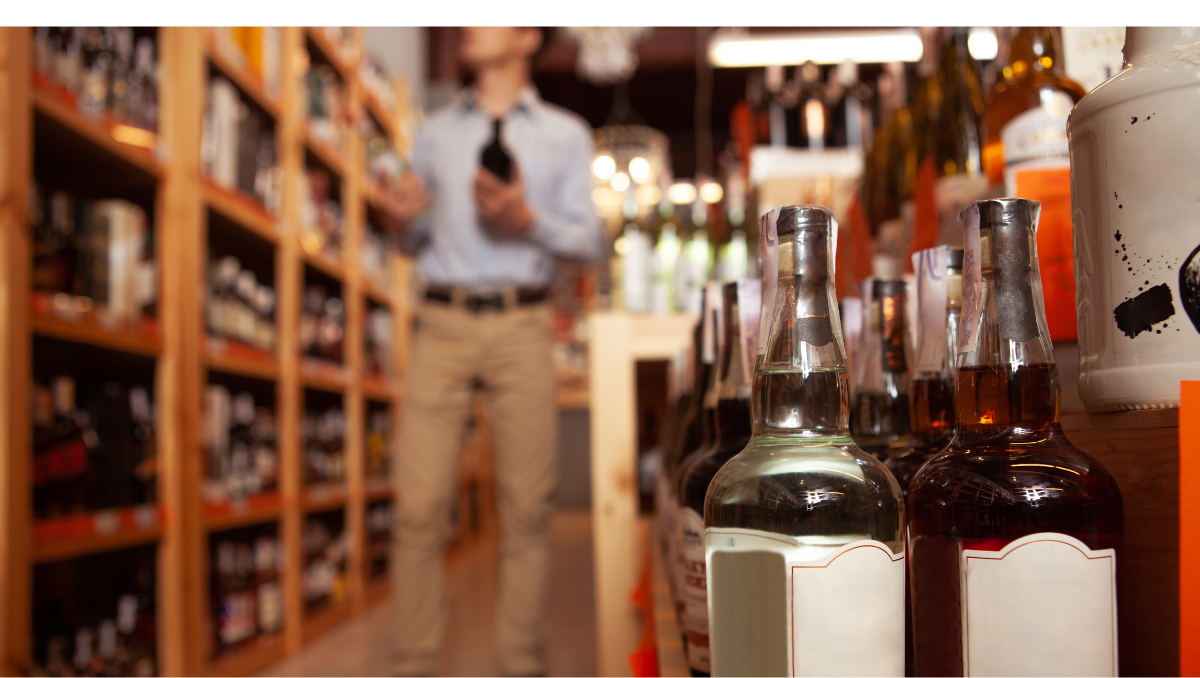 In Marathon County, research found that 44% of high school 12th graders have consumed alcohol in the past 30 days. To minimize youth alcohol consumption, the Marathon County Minimum Legal Drinking Age Compliance Checks project will focus on reducing underage access to alcohol.
AHW funding is helping Marathon County Health Department researchers and MCW's Michael Levas, MD, (Pediatrics) establish county-wide minimum legal drinking age (MLDA) compliance checks for Marathon County. The resulting data will identify trends and retailers with histories of being out of compliance with underage alcohol sales. The project will also update compliance records, train volunteers to conduct checks, and schedule and document checks and their findings.
Researchers intend for the project to become a resource on alcohol policy for Marathon County, used to educate alcohol retailers on MLDA policy and conduct media outreach to highlight the importance of compliance checks.
Addressing Excessive Alcohol Consumption and Related Behavioral Health Issues
The mental and physical health issues caused by excessive alcohol use threaten the well-being of communities across Wisconsin, particularly Native American/Alaska Native communities.
In the town of Lac du Flambeau (Vilas County), home to the Lac du Flambeau tribe, the local excessive drinking rate is 1.5 to two times higher than in the rest of Wisconsin. In 2013, the Lac du Flambeau Tribal Council declared a state of emergency because of a sharp spike in overdoses.
With AHW funding, the Healthier Community Action Team (HCAT) is working to decrease excessive drinking in Lac du Flambeau adults. The HCAT Behavioral Health Project is part of AHW's Advancing Behavioral Health Initiative, an eight-year, up-to-$20-million commitment to advancing mental and behavioral outcomes in 10 Wisconsin communities.
The project entails three strategies: community engagement, a community awareness campaign, and cultural immersion in education, training, and support. In its current phase, efforts focus on the Family Circles program, tapping tribal service providers and past program participants to support community engagement and awareness activities. Ultimately, project partners hope to decrease excessive drinking in Lac du Flambeau adults 18-44 by 10%.
Reducing Alcohol Misuse for a Healthier Wisconsin
Alcohol misuse is a prevalent and challenging health issue for our state. However, work made possible by AHW health grants in Wisconsin will provide valuable insights, data, and resources to support changes to help our communities choose healthier paths.