Bullying and Suicide Prevention in Wisconsin Communities
January 5, 2023 Posted by Jesse M. Ehrenfeld, MD, MPH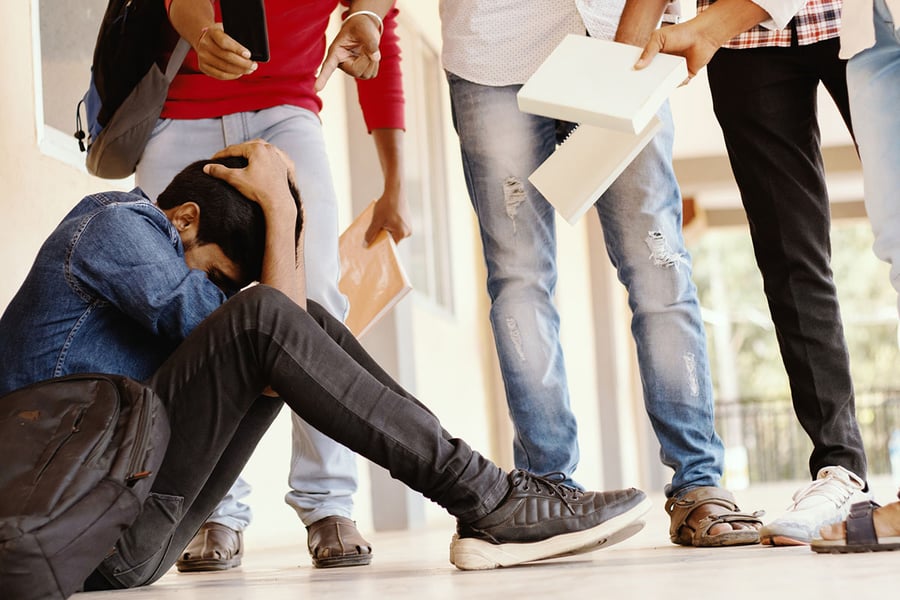 Note: This post discusses the topic of suicide, which may be distressing to some readers. If you are concerned about yourself of a loved one, contact the National Suicide Prevention Hotline at 988.
Bullying and suicide are harming too many young people in Wisconsin. Like many public health issues, these problems have an unequal impact on vulnerable populations in our state.
Thankfully, a number of community organizations are coordinating innovative approaches to deal with bullying and address mental health issues.
In an episode of Coffee Conversations with Scientists, Sara Kohlbeck, director of suicide prevention at Medical College of Wisconsin (MCW) and Dr. Staci Young, associate professor and director of the Center for Healthy Communities and Research, discuss bullying and suicide prevention in Wisconsin communities.


What Is Bullying?
Bullying is when someone intimidates someone else, physically, psychologically, or emotionally. There are different ways that it occurs, and it can happen in person or online. No matter where bullying happens, it instills fear and causes a number of negative reactions in the brain and body.
Adults need to pay attention to signs of bullying and create environments where young people feel safe. We all need to take seriously a child's discomfort when someone is teasing them, making fun of them, or being physical in ways that cause discomfort or harm.

The Consequences of Bullying
Data from the Centers for Disease Control (CDC) show that approximately 20 percent of middle and high school students have experienced bullying on school property. Remember: That's just on school property. These days, bullying can take place outside of school, online, and on social media as well. Because of the stigma and fear of reporting bullying, it is likely that bullying is more common than these numbers show.
There are mental and physical health issues associated with bullying. For example, bullying
Affects self-esteem as well as school functioning and adjustment — for both victims and perpetrators.

Increases the possibility of skipping classes or dropping out of school

Leads to decreases in grade point averages

May lead to misusing alcohol and other substances

May involve physical injuries

Can have effects that last beyond adolescence, causing problems with relationships, finances, or physical health
Bullying is a systemic problem that does not just affect perpetrators and victims; witnessing bullying of peers in a school environment can cause negative effects, too.
All of these issues are cause for concern. But bullying can also have serious and deadly consequences. Victims of bullying are prone to psychiatric disorders, with depression and anxiety being the most common mental health concerns. It can also lead to suicidal thoughts and behaviors.

What Can Adults Do?
It is important for young people to feel safe in reporting bullying and understanding that they are going to be protected by the adults in their lives. Adults and trusted caretakers can listen, support, and validate concerns about bullying.
It is also important to connect young people experiencing bullying with support and resources at school or in their community. Many organizations in the community support youth mental health, and sometimes young people need a nudge in that direction to get the help they need.
Finally, we need to look at nurturing social connections for young people. One of the most powerful protective factors against suicidal thoughts and behaviors is having a trusted adult in one's life.
It can be difficult for adults and caregivers to hear that a child we love is in distress. But one of the best things we can do is to calmly listen and strategize with them on how to best cope with their situation and get the help they need.


Cyberbullying and Suicide
Bullying has moved beyond the playground and onto online platforms, where anonymity can make it harder to detect or intervene.
In recent years, cyberbullying has become a serious issue for young people. And it can be difficult for adults to detect. Sometimes cyberbullying is anonymous, and other times it happens between friends and peers. One serious aspect of cyberbullying is that perpetrators don't always see the response of the person being bullied, so they aren't as aware of the harm they are causing.
In Wisconsin, a study showed that cyberbullying is associated with suicidal behavior, especially among females ages 10-14.
Parents and caregivers need to stay alert to changes in mood or behavior and keep an open channel of communication so that young people feel comfortable sharing if something harmful is happening online.
Checking In
Another strategy for caregivers, educators, and families is to check in with young people using open-ended questions like, "How are you doing?" "How are things going?" Even if bullying is not an issue, check-ins create a sense of connection and show young people that the adults in their life care.
If young people are part of a population that experiences more bullying, it's even more important to have this foundation of trust.
Protecting Vulnerable Groups
Young people that are part of the LGBTQ community often face bullying because of their differences. Schools can do more to create safe environments that are nurturing for all young people.
Bullying is not just a high school issue. In fact data from Wisconsin shows that bullying might be more of an issue in young grades, for ages 15 and under.
The Advancing a Healthier Wisconsin Endowment has made significant investments in helping Wisconsin communities address the mental health of students through bullying and suicide prevention.
In Racine and Kenosha, the Racine Collaborative of Children's Mental Health explored the issue of children's mental health in the region, uncovering a need for a unified response to address mental health challenges. In 2011, the collaborative became housed within Racine Unified School District and involved a number of community partners to work on coordinating systems, reducing access and barriers, and addressing service costs and workforce shortages.

In Eau Claire and Chippewa counties, a coalition of schools, public health, and law enforcement agencies are working together to reduce the number of youth at risk for depression.

The Milwaukee Home, School, and Community Coalition to Improve Youth Mental Health is working to reduce the Office Discipline Referral (ODR) rate in Milwaukee Public Schools for children ages 0-8.

Better Together In La Crosse County has cultivated a collaborative effort among staff, families, and youth-serving organizations to develop a mental health curriculum that helps young people build resilience and develop strategies for dealing with stress and trauma.


Collaboration Is Key
What all these initiatives have in common is a dedication to working on multiple systems and levels to close gaps and make schools and communities safer and healthier for all Wisconsin children.
These efforts to address bullying and suicide prevention are prioritizing children's mental health as an urgent community health issue.