Accelerating Discovery: Understanding the Impact of Exercise on Chronic Pain
January 31, 2020 Posted by AHW Endowment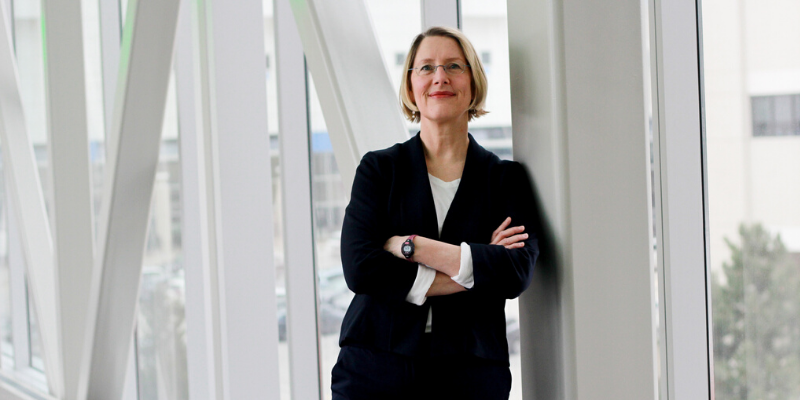 How AHW early-stage research funding is creating new knowledge on chronic pain that may benefit the lives of Wisconsin children today and for generations to come

Pain has a purpose. It serves as our body's warning that something is wrong, allowing us to protect against further injury or care for a wound. As our body heals, the pain subsides.

But for some, pain is different. It lasts weeks, months, or years. It no longer serves a protective purpose and impacts the ability to perform the normal activities of daily life. This is chronic pain – a health challenge often talked about for the severe impact it has on daily life for adults who suffer. But left out of the conversation is another critical patient population: Children.

"One in four kids have chronic pain," says Keri Hainsworth, PhD, associate professor of anesthesiology at the Medical College of Wisconsin and research director of the Jane B. Pettit Pain Management Center at Children's Wisconsin.
"Chronic pain is devastating to these kids and their families," Hainsworth says. "Pain affects everything – your mood, your personality, your ability and desire to do anything. And for a kid, that just stinks. My passion is to help these kids."

Hainsworth has funneled this passion into the focus of her work, including a $200,000 AHW grant designed to support early-stage research into emerging and compelling health concerns. Her study aims to better understand the body's endocannabinoid system, an internal system linked to everything from metabolism, inflammation, sleep and – importantly – pain processing.

It's also a system known to be dysregulated – or impaired – in people with obesity. For Hainsworth, this connection is critical.

"Up to 30 percent of kids seen in chronic pain clinics have obesity," Hainsworth says. Research, including previous studies led by Hainsworth, have begun building the connection that obesity exacerbates the effect of chronic pain in children.

"We are trying to identify the mechanisms that underly both obesity and chronic pain to develop treatment options that can address the needs of these kids," Hainsworth explains. "And what we learn may also improve the lives of children and adults who suffer from chronic pain, regardless of weight."

Through the grant, Hainsworth has brought together MCW experts in pediatric pain, neuroscience, pharmacology, exercise science, and statistics to focus on this population of children who have chronic pain and obesity.

---
"It's about quality of life, long-term, for kids right here in Wisconsin." – Keri Hainsworth, PhD
---

The goal is to build on studies in adults that have shown that the endocannabinoid system can be activated to suppress pain through exercise. So Hainsworth and her colleagues are evaluating how Iyengar yoga – a style of yoga often used in rehabilitation – impacts both the endocannabinoids circulating in the blood and the pain threshold of more than 155 adolescents before and after holding a yoga pose for one minute at a time, for a total of three minutes.

"We're looking to see if the yoga pose will increase their levels of circulating endocannabinoids, but we're also looking for objective evidence that something's going on in their bodies," Hainsworth says. "If those endocannabinoids really are increased in their system, we should see that their pain threshold goes up."

However, if the opposite is true – or the results are mixed – what would be the next step?

"If the research poses more questions, we may need to develop new studies," she says. "And that is a good thing too."

To Hainsworth, every study is a step toward answers and an opportunity to begin impacting the lives of children in Wisconsin today.

As she analyzes the outcomes of this project, Hainsworth has hope.

"We won't have all the answers, but I think we are going to have some important answers," she says.

She hints that there is much more work to do. As the prevalence of obesity in pediatrics has tripled in the past three decades, the need to understand its impacts on health outcomes, including chronic pain, is a priority.

Children with obesity often become adults with obesity, she says, with data indicating that approximately 90% of adolescents with obesity will remain obese into their 30s.

Same with chronic pain; adolescents with chronic pain often become adults with chronic pain, too.

"They have a lifetime of disability ahead of them if nobody intervenes," says Hainsworth. "We don't want kids to suffer their whole lives. We want their lives to get better."
Project Title:

Obesity-Driven Dysregulation of the Endocannabinoid System in Chronic Pain

Award:

$200,000

Award Date:

January 2018

Principal Investigator:

Keri Hainsworth, PhD, Anesthesiology

Co-Investigators:

Cecilia J. Hillard, PhD, Pharmacology and Toxicology
Steven J. Weisman, MD, Anesthesiology
Hershel Raff, PhD, Medicine, Endocrinology

Collaborators:

Pippa M. Simpson, PhD, Pediatrics, Quantitative Health Sciences
Stacy Stolzman, PhD, Exercise Physiology, Concordia University

Project Description:

Understanding the contribution of endocannabinoid system dysregulation in pain processing in adolescents with obesity