Nature: Innovative nature-based therapy to support urban Latino youth
May 3, 2022 Posted by AHW Endowment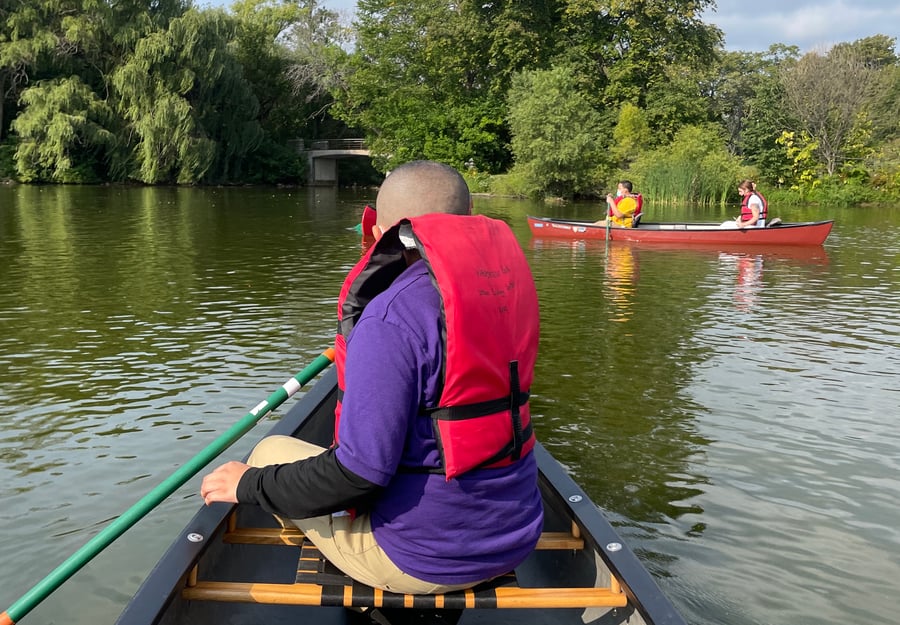 Improving the mental health of urban, Latino youth from low-income families may begin with connecting them to nature-based therapies and experiences through after-school programs, summer camps, and outpatient treatment programs.
Mental health care is in short supply, and viable alternatives to mental health clinical treatment are limited for urban, minority youth, due to distance and cost barriers, and are nearly inaccessible for non-English speaking families. With youth suicide rates and mental health hospitalizations in Wisconsin consistently surpassing national rates, greater attention is now being paid to both prevention and alternative, more accessible therapies.
An AHW-supported study, "Impacts of Nature in Proactive and Responsive Behavioral Health Treatment of Urban Latino Youth," developed a nature-based behavioral health curriculum along with evaluation and assessment tools. The project is a partnership between the Sixteenth Street Community Health Centers (SSCHC), the Medical College of Wisconsin (MCW) Institute for Health & Equity, and two public elementary schools on Milwaukee's south side: Lincoln Avenue School, and Zablocki School.
Starting in Fall 2020, the three-year, $400,000 project brought together school and community health center leaders, youth committees, behavioral health clinicians, academic evaluators, and environmental and traditional youth educators to inform, plan, and implement the innovative project.
Together, they created what they hope will be a replicable program model for nature-based mental health therapy for Latino youth in Wisconsin, and across the country.
Considerable research points to a broad range of benefits from contact with nature. But there's a dearth of studies on nature-contact therapy, especially for the nation's rapidly growing Latino population with considerable health disparities, according to a June 2018 literature review published by the International Journal of Environmental Research and Public Health.
The AWH-supported project focuses on primarily low-income families and under- or uninsured Latino youth (ages 8 to 10) who live on Milwaukee's south side. This is one of Milwaukee's most densely populated neighborhoods – 70% Latino – with limited access and exposure to safe green spaces for children to learn and play in their urban neighborhood.
SSCHC, which provides medical and behavioral health care to nearly 20,000 children in this area, serves as the primary community partner for the project and is familiar with the many social determinants of health impacting mental health and well-being among Latino children. It is one of the only clinics with completely bilingual services.
The nature-based curriculum of therapeutic interventions for Latino youth was developed with an expert who has 15 years of experience in curriculum development for this age group. The curriculum includes both preventative programming for children in existing after-school programs and summer camps, and responsive programming for children in SSCHC's Child and Adolescent Day Treatment Program.
Working together to figure out where best to plant a tree, or to find and remove invasive plant species, teaches conflict resolution. Picking up litter and learning about the consequences of litter on the natural environment and human health can teach responsibility.
When canoeing, children follow instructions (behavioral regulation), work together to paddle the canoe through the water (social skills building), and can use canoeing as a meditative activity (positive coping skill).
"We have seen a lot of potential for benefits of the program, anecdotally," said Jamie Ferschinger, director of the Department of Environmental Health at SSCHC.
She recalled hearing about a child who behaved differently in a canoe than in a clinical treatment environment – he was more talkative and didn't need his 'tough guy' front.
"Clinical settings are the treatment model," Ferschinger said. "We are an early innovator for systems change. We need insurance to see nature-based therapy as viable prevention and treatment approach for mental illness."
Helping youth access limited green space and nature require a paradigm shift, Ferschinger said. "We are curating experiences. We don't do things for people; we do things with people."
Once they complete nature-based therapies and experiences, the SSCHC gives young participants a family membership to the Urban Ecology Center, a Milwaukee nonprofit that connects people in cities to nature and each other.
Project Principal Investigator Kirsten Beyer, an associate professor in MCW's Division of Epidemiology & Social Sciences within the Institute for Health & Equity, has watched kids gain confidence and improve their physical activity levels through nature programming.
For evaluation, the project team uses a range of tools, including a symptom checklist -- attention or self-regulation difficulties, for example – as well as other measures, such as a perceived stress scale.
Youth learn mindfulness, reflection, self-regulation and build confidence through activities in nature, Beyer said.
"We're testing a program that, if successful, could be embedded into behavioral treatment or schools," she said. "We're teaching skills youth can take with them into their daily lives, offering benefits for well-being without substantial cost or stigma. It's normal to go hiking or canoeing; we leverage these activities to build skills such as mindfulness."