Rayna Andrews Tapped to Host MCW's Coffee Conversations with Scientists
January 9, 2023 Posted by AHW Endowment
Milwaukee-based public health ambassador to showcase medical science advances being made in Wisconsin

Public health advocate and author Rayna Andrews has been enlisted to host the Medical College of Wisconsin's (MCW's) Coffee Conversations with Scientists monthly video live stream, episodes of which are also accessible at any time as recorded podcasts.

With funding and logistical support from the Advancing a Healthier Wisconsin Endowment (AHW), Coffee Conversations with Scientists explores the science behind health topics that directly affect audience members—from cardiovascular health to mental wellness, and social and environmental factors negatively affecting the health of both individuals and whole populations.

AHW launched Conversations with Scientists as a free, public in-person learning featuring MCW expert speakers in 2016. Following a temporary pause due to COVID-19, AHW and MCW brought the popular series back as a new virtual experience in April 2021. The virtual format of the conversations allows for direct audience participation through on-screen question submission, and the archiving of episodes allows for a much wider audience reach. Instead of hundreds of in-person participants, Coffee Conversations with Scientists episodes now reach thousands.

To date, Coffee Conversations with Scientists episodes have featured a rotating MCW host interviewing a subject matter expert from the medical college on a topic of general interest. Starting with the January 2023 episode of Coffee Conversations with Scientists, Andrews will be taking over the hosting role, helping to connect MCW researchers and other health experts with the people and communities their work benefits.

Andrews' public health work focuses on food as medicine. She is the founder of the Healthy Food Movement, a wellness company focused on food security and food literacy in underserved communities. Andrews is committed to improving people's lives, advancing health equity, and driving change in the food system.

"I look forward to highlighting the important research taking place throughout Wisconsin as well as the community-led public health initiatives that are improving lives for our friends, neighbors, and loved ones," said Andrews. "So, grab your favorite drink—coffee or otherwise—and join us for enlightening science-based conversations sure to provide value to people and communities looking to maximize their health and well-being."

You can view past episodes of Coffee Conversations with Scientists, submit a topic suggestion, and sign up to receive information on upcoming episodes here.


Get to Know Rayna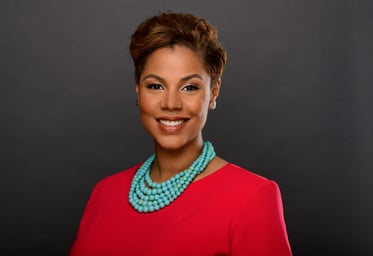 | | |
| --- | --- |
| Hometown | Houston, TX |
| Family | Son - Julian |
| Education | Master's degree in urban planning from UW-Milwaukee and a bachelor's degree in journalism from UW-Oshkosh |
| Hobbies | Traveling and painting |
| Favorite Meal | Anything with curry |
| Favorite Book | Food Politics by Marion Nestle |
| Favorite Music | Jazz |
| Favorite Place to Travel | New Orleans |
| Role Model | Ertharin Cousin, former executive director of the United Nations World Food Programme (2012 to 2017) |
| Proudest Professional Accomplishment | Delivering a TEDx at UW-Milwaukee titled 'Food Insecurity is a Public Health Concern' |
| Proudest Personal Accomplishment | Publishing 'Alex McGreen and the Tale of the Mysterious Kale' and the soon to be published 'Alex McGreen and the Bok Choy Boys' |
| Fun Fact | I went to high school with Beyonce |