AHW Brings National Expert & Wisconsin-based COVID-19 Response Leaders Together for Roundtable Discussion
February 25, 2021 Posted by AHW Endowment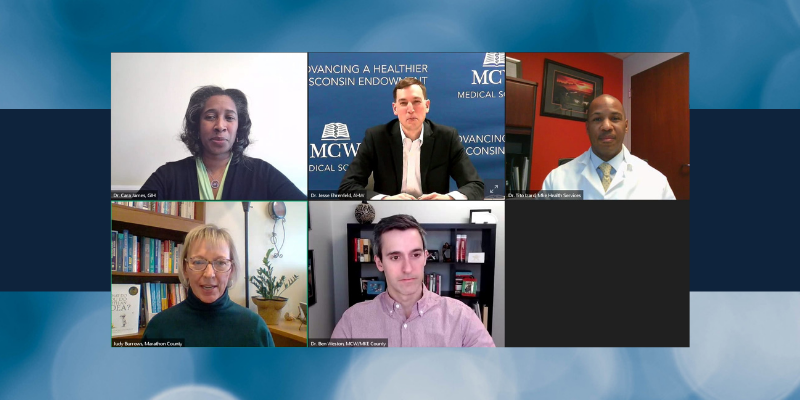 On February 4th, AHW hosted a virtual roundtable discussion to bring together Wisconsin's philanthropy leaders to discuss what support is needed as the state continues to live with COVID-19. The event was hosted by Jesse M. Ehrenfeld, MD, MPH, senior associate dean and director of AHW and featured keynote speaker Cara V. James, PhD, president and CEO of Grantmakers in Health and a panel of leaders in Wisconsin's COVID-19 response:
Judy Burrows, program director of the Marathon County Health Department
Tito Izard, MD, CEO of Milwaukee Health Services, Inc.
Ben Weston, MD, MPH, director of medical services at the Milwaukee County Office of Emergency Management and associate professor at the Medical College of Wisconsin
Among the topics discussed were the impact COVID-19 has had on health at both the national and state levels, how philanthropic organizations have responded so far, and what funders and grantmakers can support going forward.

Below are some key takeaways from the event:

The impact of COVID-19
On a national level, the pandemic has had a disproportionate impact on communities of color, including disparities in hospitalization rates, mortality rates, and vaccination rates. Disparities have arisen in access to personal protective equipment (PPE) in nursing homes. The pandemic has had a tremendous impact on families as a result of the shift to virtual education. Families have struggled to maintain housing, food security, and employment. Others, especially older populations, have struggled with social isolation. The pandemic has also taken a great toll on health care workers and public health professionals. Dr. James noted that the effects of the pandemic will be with us for years to come.

The focus of philanthropy so far
To date, funders have supported their grantees by becoming increasingly flexible, including removing caps on indirect expenses, repurposing funds, and waving or delaying reporting requirements. In Wisconsin and nationally, funders have stepped up to address early needs of the pandemic, including focusing on children and family programs, food insecurity, mental health services, creating PPE, pooling resources to respond rapidly, and working with emergency management services. Funders have also supported the growth of telemedicine and funding safety net providers to help communities meet health care needs, and increased their support to communities of color.

Where support is needed
Almost a year into the pandemic and with vaccines now making their way through communities, there is still much work to be done. New strains are emerging and the vaccine rollout hasn't been smooth. The country is still experiencing racial and ethnic disparities in vaccination rates, vaccine hesitancy remains common, and many older adults are not sure where to go to get vaccinated, especially if they do not have a primary care provider. The unavailability of the vaccine is reinforcing a medical mistrust within the African American community. Much of the initial work that was funded will need to continue—messaging to promote wearing masks and social distancing, supporting families, addressing social isolation, promoting health equity, addressing mental and behavioral health issues, tackling food insecurity, and supporting the unique needs of tribal communities. As we move forward, work is needed to rebuild our public health infrastructure, which has been neglected in recent years. Funders should also examine how they can better establish relationships with communities in advance of the next crisis.

Visit the MCW Coronavirus (COVID-19) Resource Center for the latest information, resources, and data.