Veteran Suicide Prevention: Effective Messaging to Prevent Suicide by Firearm
August 30, 2022 Posted by Jesse M. Ehrenfeld, MD, MPH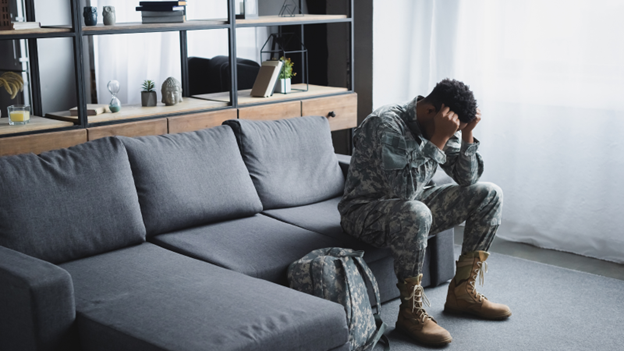 A violence prevention project launched through funding from the Advancing a Healthier Wisconsin Endowment will address violence as a statewide public health issue.
Veterans who die by suicide statistically are more likely to use a firearm, to have physical health problems, and to have experienced a recent death of a friend or family member.
Research on public health awareness messaging -- funded by a $359,173 Advancing a Healthier Wisconsin (AHW) grant -- aims to evaluate the effectiveness of a state-wide multi-media advertising campaign that encourages veterans to both engage in health care and keep firearms safely out of reach or secured with a trigger lock while they are in emotional or stressful times.
Will the messaging effectively change behaviors and save lives? It's top-of-mind during Suicide Awareness Month, marked each September.
Research on the outcomes and impact of public health messaging in veteran suicide prevention is a new area of study. Development of messaging in the AHW-funded study was informed by veteran focus groups. Its effectiveness is being tested through feedback surveys and state-of-the-art marketing techniques.
The messaging aims to alert veterans to the high rate of veteran suicide by firearms and encourage them to get the help they need while practicing firearms safety during a mental health crisis. The messaging also is designed to raise awareness among family members and friends of veterans.
Other studies have found veterans prefer messages with solemn themes and darker imagery. Understanding what resonates for higher risk, older (ages 55+), white male veterans, and which multi-media platforms reach the most in this demographic group, led the team to deploy messaging during radio broadcasts of Milwaukee Brewers baseball games, said Bertrand Berger, the study's principal investigator and assistant professor of psychiatry and behavioral medicine at Medical College of Wisconsin.
A new website created by the project team, www.reachoutwis.org, also posts a research survey seeking visitor feedback to help improve the messaging, along with crisis resources and other helpful information. The website adds another layer of research to efforts by the state's Veteran Suicide Prevention Task force, chaired by Berger. That Task Force's website, www.betherewis.com, directs individuals to gun shop storage programs for veterans in crisis among other resources such as a crisis hotline. The Medical College of Wisconsin also was involved in that initiative.
The AHW-funded project team includes Berger, War Memorial Center President and CEO Daniel Buttery, Amit Bhatnager of the University of Wisconsin-Milwaukee marketing department, and representatives of the VA Medical Center, Gun Shop Project of Wisconsin, and other veteran advocacy partners. The AHW project in fall 2021 was awarded two years of funding to design the messaging and evaluate its effectiveness.
Seventy percent of suicide deaths by veterans in Wisconsin are by use of a firearm, compared with 50% of the state's non-veteran population. Veterans are comfortable with firearms, trained to use them, and more likely to have one that is accessible, Berger said.
It's an unfortunate paradox that veterans are trained to protect themselves and their country, which both gives them respect for firearms and makes firearms more readily available. The suicide prevention messaging focuses on personal responsibility and the need to keep themselves and others safe, said Buttery, of the War Memorial Center.
"Culturally, we take firearm safety and storage very seriously when we wear the uniform," said Buttery, a combat veteran. "We tried to tap back into that culture with this messaging; to bring veterans back to their roots."
Many federally licensed firearms retailers in Wisconsin will store firearms – no questions asked -- until a crisis passes. (The locations are listed at www.betherewis.org.) The firearm storage program was started through a different statewide initiative that MCW's Berger was involved in. Among the questions tested by the current research is whether these firearms storage facilities are effective means for suicide prevention.
Message effectiveness in the AHW study is measured by periodically surveying a panel of subjects representing the Wisconsin population. Advertising effectiveness will be determined through standard marketing methods across social media, TV, radio, and digital venues.
One goal of messaging is to address the stigma and inaccurate belief that suicide is always the result of mental illness. More than half of those who die by suicide do not have a mental illness, so veterans facing homelessness, financial issues, relationship problems, or physical health concerns must be better informed about their options to get help without feeling stigmatized.
The gun safety messaging encouraging safe firearms storage to prevent suicide by use of firearms also many be helpful for non-Veterans, Berger and Buttery said.